For a farmworker woman, sexual violence is typically suffered in silence. She may not know her legal rights. Employers and supervisors frequently use these fears to exert power and control over farmworker women. These are their stories
---
California Health Report Story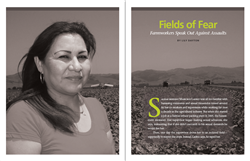 "Fields of Fear"
Farmworkers Speak Out Against Assaults
By Lilly Dayton
Appeared in the Summer 2014 edition of "California Health Report"
Read about our Salinas office's farmworker sexual assault work.
---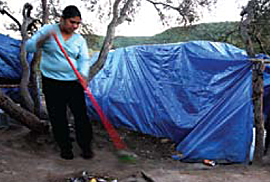 Photo by David Bacon.
For a farmworker woman, sexual violence is typically suffered in silence. She may experience deep fears of losing her job, law enforcement, immigration enforcement, and retaliation against herself individually or her family. She may not know her legal rights. She may have no one to reach out to in an unfamiliar community, isolated by language, distance, culture and lack of transportation. She may experience deep shame if the community and family learn what happened to her. Employers and supervisors frequently use these fears and conditions to exert power and control over farmworker women.
Given this complicated position, the brave women who come forward and report what happened need help with a range of services including civil, criminal and immigration legal services; health and mental health care; disability; safety; privacy; housing; education; employment; and public benefits. The provision of these services must be offered in a culturally and linguistically competent manner, with an understanding of the unique circumstances of farmworker women.
The Farmworker Sexual Violence Technical Assistance Project supports this holistic view of service and encourages it in all its work. Funded by the U.S. Department of Justice's Office on Violence Against Women (OVW), the Farmworker Sexual Violence Technical Assistance Project is spearheaded by California Rural Legal Assistance, Inc. in partnership with three leading advocacy groups: Esperanza: The Immigrant Women's Legal Initiative of the Southern Poverty Law Center, Lideres Campesinas and the Victim Rights Law Center.
As partners, we offer training and technical assistance to OVW grantees to accomplish three shared goals:
Increase the availability and quality of legal assistance provided to victims of sexual violence living within migrant and farmworker communities;
Establish safety plans for farmworkers who experience sexual violence, particularly for those living in labor camps; and
Increase the knowledge base of attorneys, advocates and law enforcement on the challenges and issues facing farmworkers who experience sexual violence.
We are grateful for the expertise and assistance of the American Bar Association Commission on Domestic Violence, Arte Sana, Multicultural Efforts to end Sexual Assault at Purdue University, the National Sexual Assault Coalition Resource Sharing Project, the National Sexual Violence Resource Center and the Rural Women's Health Project.
HOW WE CAN HELP
The Farmworker Sexual Violence Technical Assistance Project provides one-on-one consultation to OVW grantees seeking assistance with legal issues and strategies regarding sexual violence against farmworkers. Our specific areas of expertise include but are not limited to:
civil legal remedies for sexual assault victims including housing, education, public benefits, employment, immigration and privacy;
outreach strategies that are culturally and linguistically appropriate for farmworkers;
cultural considerations when working with farmworkers;
safety planning particular to farmworkers, including those living in labor camps;
holistic representation of the comprehensive needs of farmworker victims of sexual violence;
basic legal rights of farmworkers; and
knowledge of the agricultural industry including its structure and practices.
Complete our technical assistance request form in English or Spanish. We will call you within two business days to schedule a consultation. Please note, this form is only for OVW grantees who are attorneys and legal advocates. This form is not for victims of sexual violence. We do not provide referrals for services nor do we provide legal advice.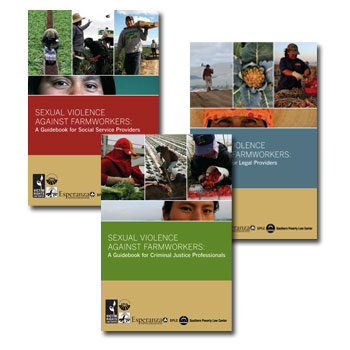 Guidebooks
Three educational guidebooks are available to provide practical information and tips on how to better assist farmworkers who have experienced sexual violence, specifically for:
legal service providers;
criminal justice professionals; and
victim service providers.
Download the set of guidebooks (English and Spanish)

Safety Planning
To help advocates assist farmworkers with safety planning appropriate to their unique circumstances, we are creating guided safety plan questions, information on how to create a safety plan with farmworkers, and safety plan webinars.
Just released is a Spanish language fotonovela entitled Cosechando Mis Derechos: La Historia de Sarita (Harvesting My Rights: Sarita's Story). Through photos, the fotonovela tells the story of a young farmworker woman experiencing sexual violence at work and what she does to be safe, end the violence and get help. It can be used as a discussion piece to begin the conversation and build trust with victims. Additionally, you can use it to convey basic know your rights information - that every individual has the right to be free from violence and to be safe in their housing, at work and in the community. You can also distribute the fotonovela in your own farmworker community as an outreach tool or to your clients directly and include your contact information on the back cover. View and print the pdf and email mmeuter@crla.org to order copies for distribution. Simply indicate the quantity and shipping address.
Training
In the year 2010, we will host regional trainings for OVW grantees in Arizona, California, Idaho, Oregon and Washington. We will also present workshops for attorneys and criminal justice professionals at national conferences. Additional webinars and teleconferences will be scheduled as well.
Sign up!
All of the products we create and services we provide can be found here. As resources are developed, they will be posted here. To receive an announcement of when these resources are available, please email your name and email to mmeuter@crla.org.
Contact
For more information, please contact Michael Meuter, Director of Litigation, Advocacy, and Training at mmeuter@crla.org.
---
This project is supported by Grant No. 2008-TA-AX-K023 awarded by the Office on Violence Against Women, U.S. Department of Justice. The opinions, findings, conclusions, and recommendations expressed in this program are those of the authors and do not necessarily reflect the views of the
Department of Justice, Office on Violence Against Women.