Highlights from CRLA's Proud History of Landmark Victories for the Poor: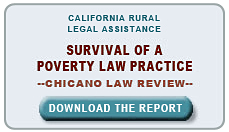 IN HOME WORKERS HAVE RIGHTS
2013 - An appellate court rules that counties administering the IHSS program can be liable as employers for claims for unpaid wages, affecting the rights of over 365,000 home health care workers statewide.
ASSISTING ALL WORKERS
2010… One of the most important employment cases in California history. After almost a century of statutory language, California passed Labor Code § 1194. In Martinez v Combs, the California Supreme Court defined who is an "employee" for purposes of California wage law, shaping the outcome of all wage and hour cases to come and the lives of millions of workers in California.
DAIRY INDUSTRY ABUSES
2006… CRLA recovered more than $1 million dollars in unpaid wages, overtime pay, and penalties from dairies for workers who were forced to labor 7 days a week, 12-14 hours a day, for less than $4.35 an hour.

MIGRANT SCHOOL CHILDREN
2006… CRLA's successful advocacy led to the recovery of $29 million to increase educational opportunities for migrant school children that Governor Schwarzenegger attempted to divert away from Migrant Education Programs.

BILINGUAL EDUCATION
2004… CRLA advocated to end the State Department of Education's practice of refusing to allocate federal No Child Left Behind money to bilingual classrooms, resulting in millions of dollars for Latino children's education.

INDIGENOUS FARMWORKERS
2002… CRLA saw the completion of Casas San Miguel Housing Development for 58 Oaxacan immigrants and their families who had been living on a Superfund toxic dump site.

SEXUAL HARRASMENT
2002… CRLA brought the first sexual harassment case on behalf of a Latina farm worker that resulted in a $1.8 million dollar settlement.

HOUSING FOR THE POOR
2000… CRLA's administrative complaints resulted in $21 million to trailer park residents threatened with eviction from the only affordable housing offered in Riverside County for farm workers and other low wage workers.

TOXIC DISCRIMINATION
1991… Representing a grassroots Latino community organization fighting the construction of a toxic waste incinerator in their rural town, CRLA files the nation's first suit charging "environmental racism."

WOMEN'S HEALTH
1990… CRLA forces the restoration of $20 million in cuts to funding for family planning and health care services for poor women.

CLASSROOMS IN THE FIELDS
1988… CRLA community workers bring the Teatro Nuestro production on health, safety, and pesticides to 10,000 California farm workers.

NO MORE HIDING
1986… CRLA drafts the Special Agricultural Worker provision of the new Immigration Act. One million undocumented workers are legalized nationwide.

BUILDING NEW HOMES
1985…California creates the CRLA-sponsored Housing Trust Fund which annually turns $20 million in offshore oil taxes into funds for low-income housing.

BIRTH DEFECTS
1984… Pesticide companies must test the harmfulness of their products to human beings after California enacts the CRLA-sponsored Birth Defect Prevention Act.

BUDGET CUT
1981… President Reagan slashes CRLA's budget. More than 30% of CRLA's staff is laid off. CRLA vows to continue fighting against the injustices suffered by the rural poor.

EMPOWERMENT
1981… CRLA helps 100 farm worker families form a cooperative housing association and take ownership of their mobile home park from an unscrupulous landlord.

FIGHTING POVERTY
1981… California's unemployed win back $27 million in benefits because of a successful CRLA lawsuit.

EDUCATION FOR ALL
1976… California enacts the CRLA-sponsored Bilingual Education Act, the most comprehensive in the nation.

STOPPING CRUELTY
1975… CRLA succeeds in banning the use of "el cortito", the crippling short-handled hoe. Farm worker back injuries drop a dramatic 34%.

CONFRONTING RACISM
1973… CRLA stops the practice of placing Spanish-speaking children in classes for the mentally retarded simply because they do not speak English.
CHICANO LAW REVIEW
1972... CRLA: Survival of a Poverty Law Practice. It is a major role that CRLA has played in serving the poor and instilling faith in them that the system could be utilized to help them. Download the full report

DEADLY PESTICIDES
1970… CRLA forces the federal government to begin hearings which lead to the banning of the pesticide DDT.

HEALTH CARE
1967… CRLA forces Governor Ronald Reagan to restore $211 million to the state's MediCal program for the poor and elderly.

WAR ON POVERTY
1966… CRLA opens its doors as one of the nation's original "War on Poverty" programs.