Over the past decade we have partnered with numerous corporate/private foundations to advance our mission and deepen our impact in California. Each year we secure over $4 million dollars in grants and contracts, allowing us to address some of the most complex social problems in California: discrmination, economic inequality, human trafficking, language access, public health disparities, environmental racism and gender equity.
Most recently, we partnerd with the James Irvine Foundation, the William and Flora Hewlett Foundation and the David and Lucile Packard Foundation to begin our own program of grant making to small non-profits serving low-income communities of color. To learn more about our own grant making program, visit our Fund for Rural Equity webpage.
Click on the logos below to learn more about our foundation partners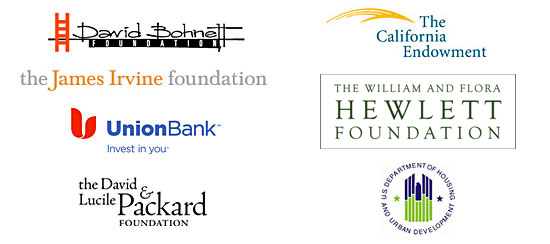 We continue to work with a wide range of foundations to advance our work on new and emerging areas of concern, and we continue to seek innovative partners for future work in the years ahead. If you are a program officer or foundation executive seeking more information about investment and grant making opportunities with CRLA, please contact our Grants Officer via email.